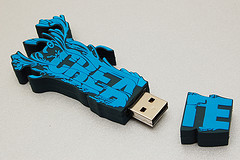 I propose a session in which we brainstorm what applications and documents might be included on a "Digital Humanities Creator Stick," a collection of tools that could fit on a USB flash drive, allowing students, teachers, researchers, and anyone else to work on digital humanities projects. An individual would plug the stick into any computer and instantly have access to what she needs to get work done. Unplug the stick and she takes those tools with her.
(I've created an open, editable, collaborative GoogleDoc for this session: GWms.me/DHstick)
The idea came from my research into accessibility in digital environments: students (and others) with disabilities often need a special suite of software applications to access, use, and create digital resources. An organization called Michigan's Integrated Technology Supports has developed something they've titled the MITS Freedom Stick: "The MITS Freedom Stick is a portable, use-anywhere accessibility solution. Install this software package on any 4gb USB Flash Drive (full) or 2gb USB Flash Drive (lite) and you create a set of tools for your students that they can carry in their pockets which will make any Windows computer highly accessible" (more here).
See also Julie Meloni's ProfHacker post titled "Using Portable Applications for Productivity."
Questions for brainstorming the content of a "Digital Humanities Creator Stick":
What guides, tutorials, or essays should be included?
What portable applications already exist that should be included?
What portable applications don't exist but would be great to include if they did?